Monday, August 02, 2004 - Page updated at 12:00 A.M.


Fires put Seattle on alert

By Jennifer Sullivan
Seattle Times staff reporter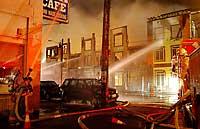 ALAN BERNER / THE SEATTLE TIMES
Firefighters battle a fire early yesterday at the Roycroft condominiums under construction at North 61st Street and Phinney Avenue North. Damage was estimated at more than $3 million. The fire's cause has not been determined.

Police will step up patrols in the North Seattle neighborhoods hit by a series of fires early yesterday that drew hundreds of people into the streets and stretched firefighters to their limits, officials said.

At least five of the seven blazes were intentionally set, Mayor Greg Nickels said.

The fires erupted between 11:57 p.m. Saturday and 5:51 a.m. yesterday from Lake City to Phinney Ridge. There were no injuries.

The fires were so overwhelming that Seattle called Bellevue, Kirkland and Shoreline fire departments for help.

Police Chief Gil Kerlikowske said he will order increased patrols in the neighborhoods where the fires occurred, and Fire Chief Gregory Dean said firefighters were sent to every new-construction site in the city to make sure they were free of material that an arsonist could use.

In the largest fire, hundreds of Phinney Ridge residents crowded into the 6100 block of Phinney Avenue North, near the Woodland Park Zoo, to gawk at and photograph the burning Roycroft condominium building, which was under construction. The cause of that fire has yet to be determined.
BRIAN CASSELLA / THE SEATTLE TIMES
Melted molding and damaged paint are visible on a vehicle across the street from a fire that burned the Roycroft condos. It was the second of seven fires in North Seattle late Saturday and early yesterday.
The heat charred neighboring homes, businesses and garages and melted the siding on a nearby apartment complex. Cars parked along Phinney also burned.

When Michelle McBride saw the condominium on fire across the street, she grabbed a garden hose, and her husband ran to wake the neighbors.

Lowell Rivitt, 73, was sleeping when he heard pounding on his front door. Dressed in pajamas, Rivitt joined his Phinney Ridge neighbors to watch 150-foot flames stretch out of the roof of the building.

Nickels, Dean and Kerlikowske gathered outside the still-smoldering Roycroft yesterday to meet with neighbors and ask that anyone with information about the fires call an arson hotline.




1. 11:57 p.m. Saturday, Northeast 56th Street and Roosevelt Way Northeast. House fire spread to house next door. Cause not yet determined.
2. 12:49 a.m. yesterday, North 61st Street and Phinney Avenue North. Roycroft condominium complex (under construction). Builder estimated damage at $3 million at least. Cars and structures around the building also damaged. Cause not yet determined.
3. 2:19 a.m. yesterday, 7540 20th Ave. N.E. Garage fire causes about $20,000 damage. Arson.
4. 2:37 a.m. yesterday, 120th Street Northeast and Lake City Way Northeast. About $30,000 damage to fence at Bill Pierre Ford. Arson.
5. 2:43 a.m. yesterday, 12511 Lake City Way Northeast. About $200,000 damage to Cafe Long. Arson.
6. 2:48 a.m. yesterday, Northeast 130th Street and 30th Avenue Northeast. Apartments under construction set on fire, no damage. Arson.
7. 5:51 a.m. yesterday, 12th Avenue Northeast and Lake City Way Northeast. About $2,000 damage to apartments under construction. Arson
Anyone with information is asked to call 800-55-ARSON.
Source: Seattle Fire Department
The causes of two of the fires — the Roycroft fire and a house fire in the University District — were not determined yesterday. But the other five fires were caused by someone torching combustibles lying around the properties.

"It's America," Carelli said. "You can burn it down 10 times, we'll keep rebuilding it."